Products
VCN151-8 Vandlgard Nut 1/2-13 Zinc
A general purpose frangible (break-a-way) nut, with reduced wrenching. The distance across the points of the hex is less than the diameter of the base of the cone. The nut is installed with a standard wrench and removed by authorized persons by a special procedure.
Features
Wrenching Element Breaks Off At Predetermined Torque
Can't be removed with standard hand tools. Tightness is not determined by judgment of installer.
Threaded Portion Is Tapered
Can't be gripped with pliers and has attractive finish.
Die Cast From Zinc Alloy
No corrosion at break-groove.
Reduced Break-Off Torque
Lowers clamp load to avoid damage to parts being assembled.
Nuts Are Packed In Bags Of 100
Better inventory control.
Lot Number On Each Bag Of Nuts
Traceable to raw material.
Tech Specs
Material: Zinc die cast
Finish: Natural
Diameter: 3/8-16
Torque (Breakoff)
Suitable for use with GR2 or GR5 bolts
Page {pageNumber} of {pagesNumber}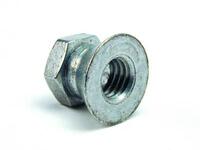 VCN151-8OS 1/2-13 ZINC VANDLGARD NUT OVERSIZE T...
Weight: 0.042
Page {pageNumber} of {pagesNumber}
Loading
This website uses cookies to ensure you get the best user experience. By continuing to use this site, you agree to our terms of use policy.